Lipoma Removal Surgery at Thames Valley Surgical Services
Lipoma Removal Surgery is in many cases straightforward because Lipomas are fatty lumps that are often just sitting under the skin. Some Lipomas can prove more challenging because they large or located deeper. In the pictures below we show you a number of Lipomas we have successfully removed.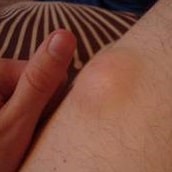 A Lipoma is a soft, fatty lump that grows under the skin. It is harmless and can usually be left alone.
Lipomas can occur on any area of skin where there are fat cells. They are usually seen on the shoulders, neck, chest, arms and back. Their range can be from the size of a pea to sometimes very large sizes and they usually grow slowly. The largest Lipoma Dr Kittel has ever seen was the size of a child's head.
About one in 100 people develop a Lipoma, so they are fairly common. Patients often have one or 2, sometimes many more. Few patients have a larger number, because they may have an inherited condition called familial Lipomatosis.
Showcasing our work – example of the result of the removal of a very large Lipoma from the left lower back of a young lady after 8 weeks.

This is a young lady. Dr Kittel removed a very large Lipoma from her left lower back. He mobilised it though a very small incision. The resulting fine line scar at 8 weeks is pink, which will subsequently turn white.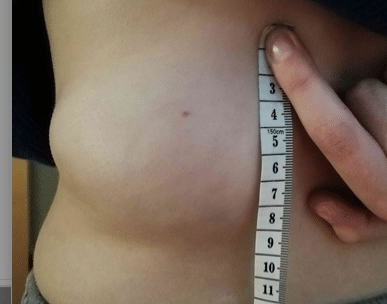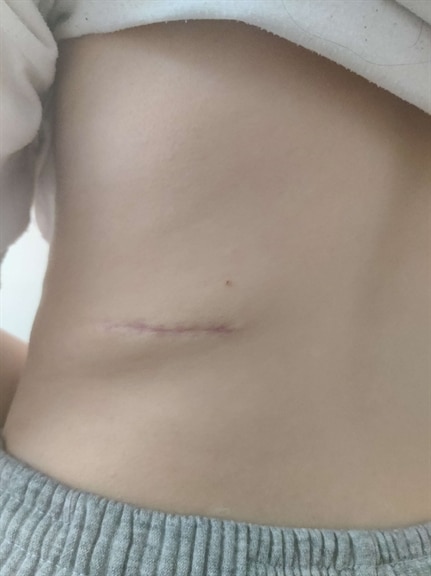 Showcasing our work – example of the result of the removal of a large Lipoma at the back of the head of a young gentleman before and right after surgery.
This is a large Lipoma on the bottom of the head / upper neck of a young gentleman. You see the Lipoma is quite large. On the second picture you can see the full appearance right after surgery (note a bit of blood and iodine, sorry). And the third picture shows a faint outline of the previous Lipoma as it was marked by me and the scar being about 60-70% of the Lipoma size only.
Recent work – update in 3 months
If the patient is happy to upload further pictures we will show you the healing after 3 months or so and what the scar looks like. This should be well healed by then and hopefully he will have a great outcome.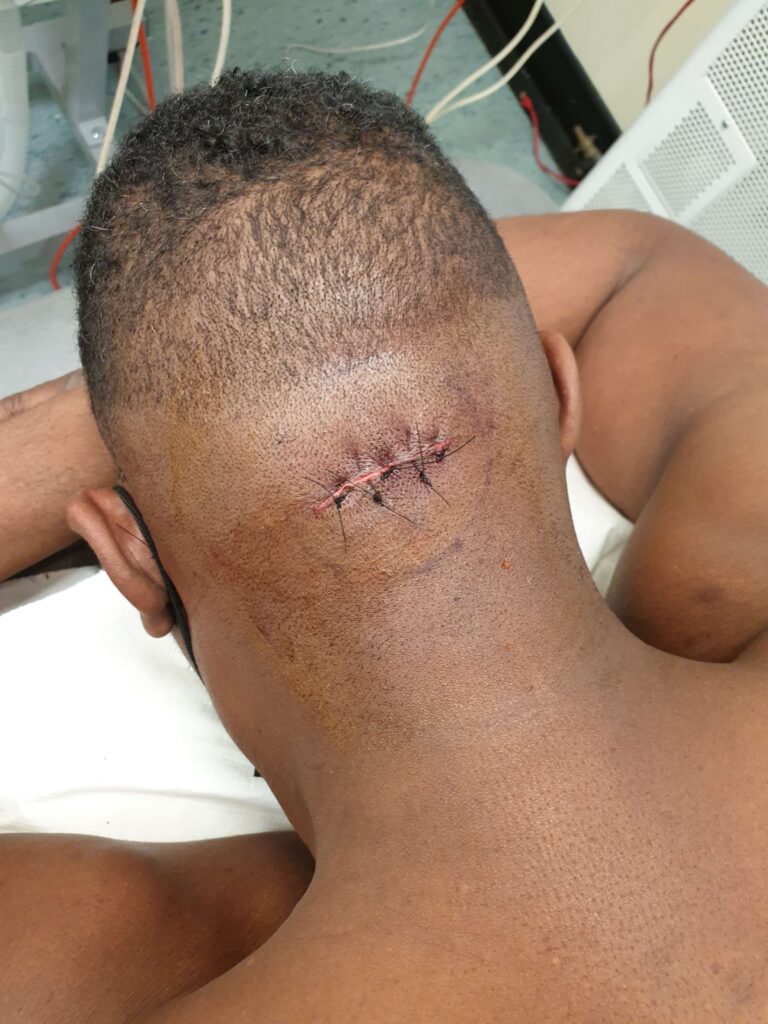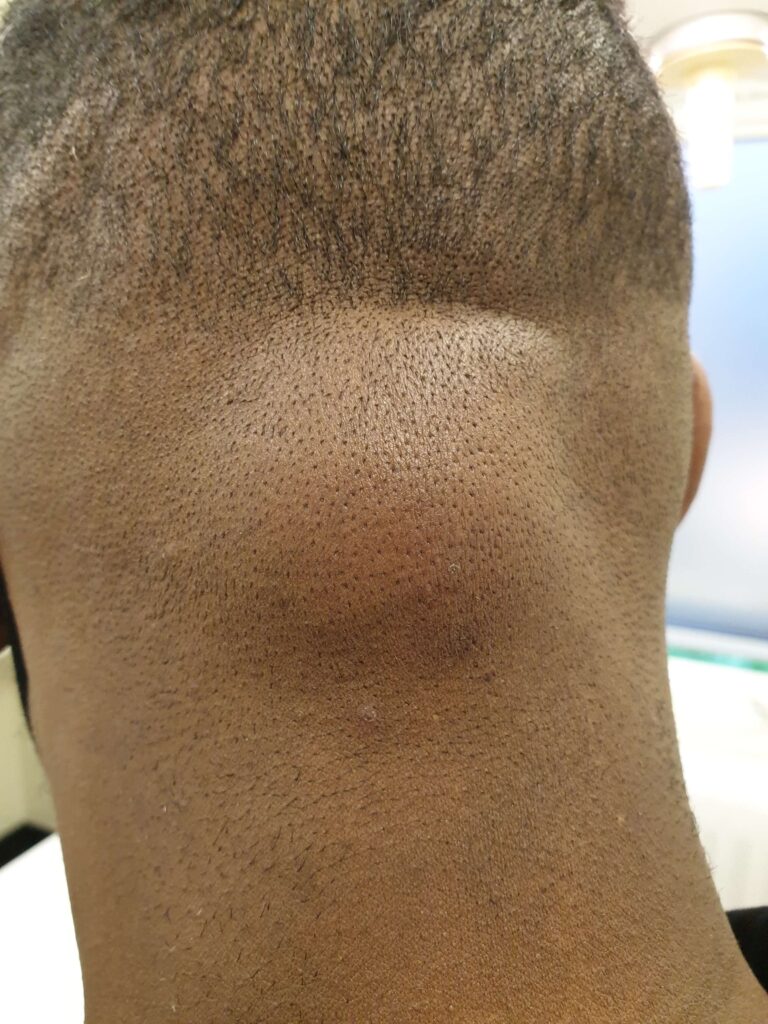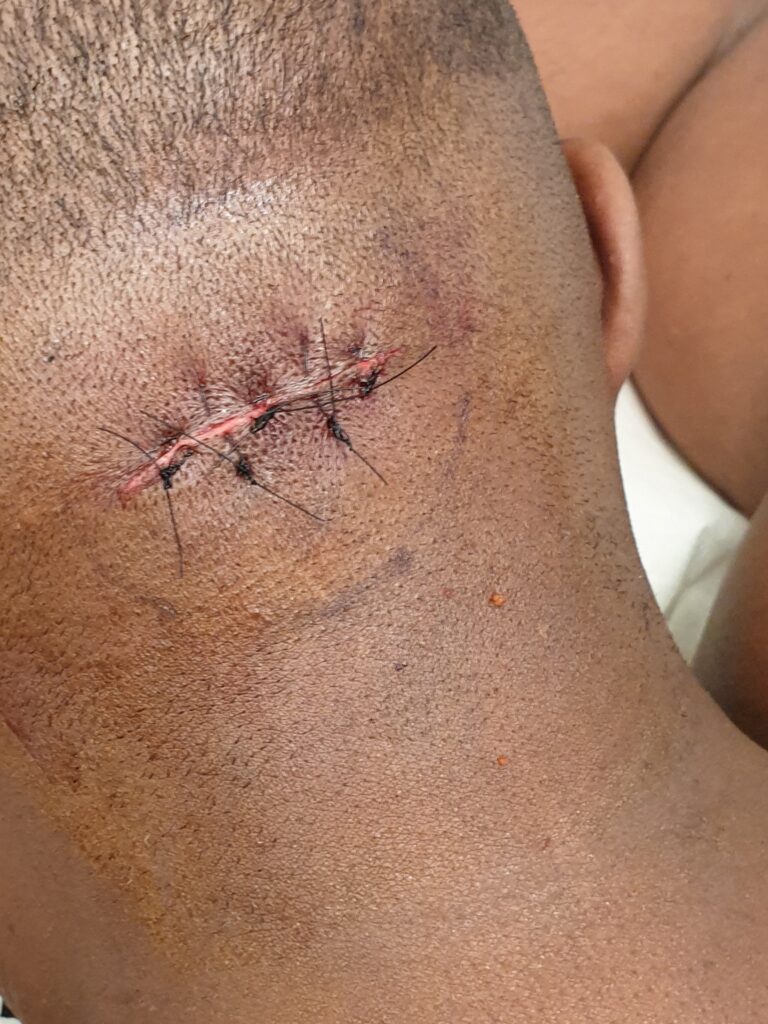 Showcasing our work – Example of the removal of a very large hip Lipoma on the right hip – 14cm length – before and 10 weeks after removal