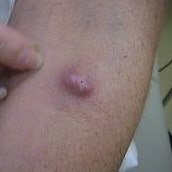 Introduction to Epidermoid And Pilar Cysts (Sebaceous Cysts)
Before we talk about cyst removal surgery lets first look at the nature of cysts.
Epidermoid and pilar cysts look like small smooth lumps under the skin surface. A cyst often has a "punctum" in the middle and sometimes discharge white toothpaste like material, which can smell.
They are benign (non-cancerous) and usually cause no harm or problems. If required, they can usually be removed easily by a small operation done under local anaesthetic. The main reason why some people want them removed is for cosmetic reasons, as they can look unsightly.
* When you apply the consultation discount of £60 to the prices for surgery above, they will come down to £275 and £325 respectively. Please note, returning customers do NOT pay for a consultation and still will get the consultation discount.