What are Skin Tags?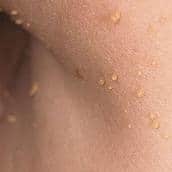 Most Skin Tags are so called "fibroepithelial polyps", which are basically normal skin, that has formed a polyp like structure and are hanging on the skin. Moles  and other skin lesions can sometimes also form Skin Tags. This means they are not located within, but adjacent to the skin.
Skin tags are usually a few millimetres in size, although can be as big as 5cm.
They are usually found on the neck, in the armpits, around the groin, or under the breasts. They can also grow on the eyelids or under the folds of the buttocks.
Who Gets Skin Tags?
Many people have one or 2 Skin Tags. There is often no need to remove them unless they get larger, infected or frequently traumatised or they change. Sometimes you worry about a changing mole, that appears like a skin tag. If in doubt, see your GP or send us a picture.
Considering The Removal Of Skin Tags?
You may want to consider Skin Surgery to get Skin Tags removed if they are unsightly and affect your self-esteem, or if they snag on clothing or jewellery and bleed.
Cost of Skin Tag Removal: £150*
*Skin Tags are not complicated to remove. Therefore the cost to surgically remove one skin tag is £150. If you have a dozen skin tags its £240 and if you have a lot its £330. We don't charge per Skin Tag, as most services, but for the time used. Click here for more detailed pricing. Please be aware lab and consultation are charged separately, but lab is sometimes not necessary.
Removing Skin Tags Yourself
There are many ways to remove Skin Tags. Some people have been known to remove Skin Tags themselves. There are different ways to achieve this. However, if trying to do it yourself you need to have good knowledge in desinfection, skin sterility & stopping bleedings.
Using Professional Skin Surgery For The Removal of Skin Tags
Simple Skin Tags can be removed very easily. some people have large number of Skin Tags (often around the neck), others have very large single Skin Tags. For pain relief they can be injected with a local anaesthetic such as Lidocaine. Alternatively, a topical anaesthetic such as "Emla Cream" can be applied beforehand. We will then usually use electrosurgical equipment to shave your Skin Tags and stop bleeding at the same time. Scarring is usually minimal. Also, consider professional skin surgery if you have larger or multiple Skin Tags. Professional skin surgery will also send your Skin Tag(s) to a lab to have them analysed giving you complete peace of mind.
My Skin Tag(s) Has / Have Been Classed As A Cosmetic Problem
If your GP has already seen you and classed the problem as a cosmetic problem, contact us directly. There is usually no point contacting any private health insurance as they do not usually cover cosmetic procedures in the UK. This advice does not apply to non-UK residents.
What  next?
If you wish to make an appointment you can contact us or book a Skin Tag Removal  appointment online. Alternatively you can ask for a telephone consultation. If you do so, please read the section "How TVVS works", thoroughly. If you are worried about pain, please click here to see how we provide painfree surgery.