Xanthelasma = Xanthoma = Cholesterol Deposit = White Spot = Fatty Deposit = Fatty Lump around the eye = White Spot around the eye.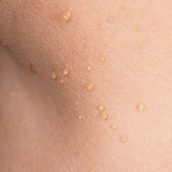 Introduction to Skin Tags
Most Skin Tags are so called "fibroepithelial polyps", which are basically normal skin, that has formed a polyp like structure and are hanging on the skin. Moles  and other lesions can sometimes also form Skin Tags. This means they are not located within, but adjacent to the skin.
Skin tags are usually a few millimetres in size, although can be as big as 5cm.
They are often found on the neck, in armpits, groins or under breasts. They can also grow on the eyelids or under the folds of the buttocks.