What Are Seborrhoeic Warts?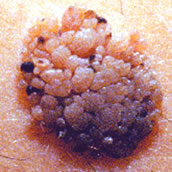 A seborrhoeic wart is also known as seborrhoeic keratosis. In the past they were also called "senile" warts. They usually look like greasy or crusty spots which seem to be stuck on to the skin. The colour varies greatly, depending on the underlying skin colour and its melanin content, but usually they are darkish brown or black.
Seborrhoeic warts are usually round or oval, but can also be irregularly shaped. Their size can vary from around a few millimeters to large areas of usually "confluent" warts of larger sizes.
Seborrhoeic warts tend to appear from the early to mid fourties onwards. They can sometimes run in families. We do not know the cause of seborrhoeic warts. Some patients develop several and sometimes many seborrhoeic warts as they become older. Also, as time goes by, each wart tends to grow slightly and become darker. Sometimes they can fall off by themselves, particularly if they are quite brittle while the fatty ones do not tend to fall of easily. Sometimes a wart can get a bit inflamed and can fall off afterwards. They can occur anywhere on your body, other than on your palms or soles.
Is a seborrhoeic wart serious?
No, they are not. Seborrhoeic warts are benign. That means they do not spread and they are not cancerous. The main problem is that they can sometimes look unsightly, particularly if they develop on your face.
Very rare cases have been reported of a type of skin cancer called melanoma developing within a seborrhoeic keratosis. It is not known if this is just a coincidence or whether it represents a true cancer change in the seborrheic wart. If you do notice a change in a seborrhoeic wart, it is worth getting your doctor to examine it.
Although they are called warts, they are not caused by the wart virus. They are not infectious.
Can seborrhoeic warts be treated?
If they do not cause any problems they can be left alone. Without treatment, they usually continue to grow and can become darker and more crusty. However, they do increase in size very slowly. Thus, early removal is indicated if you do not like the appearance and want to prevent them from getting bigger. They can be removed quite easily using a DermaBlade Shave excision. Further reasons to remove them are because they itch or they interfere with clothing or jewellery.
*Cost of seborrhoeic wart removal: £150
The cost for Seborrhoeic Wart Removal is usually £150 for a couple, £240 for a few and £330 – £420 for a lot.Click here for more detailed pricing. Please be aware lab and consultation are charged separately. Sometimes lab costs can be avoided.
Two commonly used methods to remove a seborrhoeic wart are:
Seborrhoeic Wart Removal Surgery using DermaBlade or a curette. This involves 'freezing' the surrounding skin with local anaesthetic. The Warts are then shaved off.
Seborrhoeic Wart Surgery using lasers, cautery or other electrosurgical equipment can be used to remove seborrhoeic warts. Once a Seborrhoeic Wart has been removed, it will not return.
Thames Valley Surgical Services only removes Seborrhoeic Warts using a curette, because this keeps scarring minimal, less so than with electrosurgical methods. We then use specialist silicone dressings to further minimise scarring.
What  next?
If you wish to make an appointment you can contact us or book an appointment online. Alternatively you can ask for a telephone appointment. If you do so, please read the section "How TVVS works", thoroughly. If you are worried about pain, please click here to see how we provide painfree surgery.
Further information
For further information have a look at this leaflet on patient.info
What about other warts?
If you have normal viral warts, please do not look into surgical removal. Trying to remove them surgically is often a waste of money. They can usually be on the hands, feet and lips (people chewing them). The best treatment for them is often waiting and / or Salicylic Acid preparations (I like Salactol). 
According to research by the British Medical Journal all other treatments i.e. freezing etc are second or even third line treatments and only recommended in extreme cases. They are often also less successful than Salicylic Acid preparations.
The key about Salactol is to use it regularly for long enough. Many people use it for 1-2 weeks and then give up. However, the bodies immune system needs to respond and the wart needs to go a bit red and tender for it to actually disappear. Sometimes it take months for warts to respond. I have heard many occasions where patients, often children, had warts for years and then they disappeared all in a week. For further information look here.
Some other forms of warts, like Molluscum Contagiosum crop often in children and tend to disappear after 12-18 months by themselves.
More Information: For a glossary on minor surgery terms, click here
Locations Appropriate for Referral or Treatment:
We provide Minor Surgery / Skin Surgery for Lipomas, Cysts, Warts, Moles, Skin Tags, Xanthelasmas and Split Earlobes in Maidenhead, Berkshire, which is near Windsor and Ascot and Heathrow Airport and close to London, South Buckinghamshire, South Oxfordshire, Hampshire and Surrey. We are adjacent to Henley-On-Thames, Marlow, and Twyford. We are close to Slough, Bracknell, Basingstoke, Egham, Gerrards Cross, Chalfont St Peter, Northolt, Harrow, Wembley, Rickmansworth, Richmond, Twickenham, Staines, Virginia Water, Sunningdale and Sunninghill, Ruislip, Reading, Wokingham, West Drayton, Uxbridge, Farnborough, Woking, Guildford.  Oxford, Banbury, Milton Keynes, Coventry, Essex, Sussex, Kent, Swindon, Portsmouth, Bristol, Bath, Brighton, Eastborne and Southhampton are all no more than an 45 minutes to 2 hours away. We are also accessible to certain locations in South Wales