What Is A Lipoma?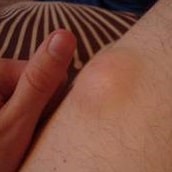 A Lipoma is a soft, fatty lump that grows under the skin. It is harmless and can usually be left alone.
Lipomas can occur on any area of skin where there are fat cells. They are usually seen on the shoulders, neck, chest, arms and back. They range from the size of a pea to sometimes very large sizes. They usually grow slowly. The largest Lipoma Dr Kittel has ever seen was the size of a child's head.
About one in 100 people develop a Lipoma, so they are fairly common. Patients often have one or 2, sometimes many more. Few patients have a larger number. This is an inherited condition called familial Lipomatosis.
How Can I Self Diagnose A Lipoma?
You can usually tell if a bump is a Lipoma by pressing it. It should feel smooth and soft, like rubber or dough, and may move about under the skin.
I Am Not Sure About My Lump
If you are unsure what it is or want a review, please book a review appointment. We can usually confirm the nature of a lump just by examining it
Why getting Lipoma Removal Surgery?
You may want to have Surgery if your Lipoma is large or in an obvious place and is affecting your self-esteem. It may also need to be removed if it is causing discomfort. For example, it may be pressing on a nerve and causing pain.
Cost of Lipoma Removal Surgery: £240* (arm and leg)
*The cost of surgery for the removal of a small Lipoma is typically £230. Every further small Lipoma removed during the same session is typically only an affordable £90. Click here for more detailed pricing. Please be aware lab and consultation are charged separately, but sometimes Lipomas do not need to be sent to the lab. Lipomas on back, front and shoulders particularly larger Lipomas can be more expensive as they can be considerably more difficult to remove.
Lesion

Cost

Total

1st Lipoma

£240

£240

2nd Lipoma

£90

£330

3rd Lipoma

£90

£420

continue with £90 for every further Lipoma
Surgery at Thames Valley Surgical Services
If you wish to have your lump surgically removed, please contact us on 07973 66 33 55. We will freeze your skin using local anaesthetic prior to skin surgery. We then remove your Lipoma(s) with as small an incision as possible. However, large Lipomas often require patient surgery, which can last up to 75 minutes. Small Lipomas on arms and legs are usually quickly removed. There is usually no more than a fine scar.
What  next?
If you wish to make an appointment you can contact us or book a clinic appointment online. Alternatively you can ask for a telephone appointment. If you do so, please read the section "How TVVS works", thoroughly. If you are worried about pain, please click here to see how we provide painfree surgery.
More Information: For a glossary on minor surgery terms, click here
For more infomation about Lipomas look at patient.info
Locations Appropriate for Referral or Treatment:
We provide Minor Surgery / Skin Surgery for Lipomas, Cysts, Warts, Moles, Skin Tags, Xanthelasmas and Split Earlobes in Maidenhead, Berkshire, which is near Windsor and Ascot and Heathrow Airport and close to London, South Buckinghamshire, South Oxfordshire, Hampshire and Surrey. We are adjacent to Henley-On-Thames, Marlow, and Twyford. We are close to Slough, Bracknell, Basingstoke, Egham, Gerrards Cross, Chalfont St Peter, Northolt, Harrow, Wembley, Rickmansworth, Richmond, Twickenham, Staines, Virginia Water, Sunningdale and Sunninghill, Ruislip, Reading, Wokingham, West Drayton, Uxbridge, Farnborough, Woking, Guildford.  Oxford, Banbury, Milton Keynes, Coventry, Essex, Sussex, Kent, Swindon, Portsmouth, Bristol, Bath, Brighton, Eastborne and Southhampton are all no more than an 45 minutes to 2 hours away. We are also accessible to certain locations in South Wales