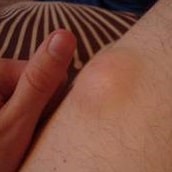 A Lipoma is a soft, fatty lump that grows under the skin. It is harmless and can usually be left alone.
Lipomas can occur on any area of skin where there are fat cells. They are usually seen on the shoulders, neck, chest, arms and back. Their range can be from the size of a pea to sometimes very large sizes and they usually grow slowly. The largest Lipoma Dr Kittel has ever seen was the size of a child's head.
About one in 100 people develop a Lipoma, so they are fairly common. Patients often have one or 2, sometimes many more. Few patients have a larger number. This is an inherited condition called familial Lipomatosis.